Apr 17th 2005
This Week in Tech 1
Episode 1 is Online
The first ROTSS has been posted.
Records live every Sunday at 5:15pm Eastern / 2:15pm Pacific / 22:15 UTC.
It's a 56kbps MP3Pro file weighing in at around 14MB. Join Patrick Norton, Kevin Rose, Robert Heron, and me for 34 minutes of Skyping fun as we discuss driving in the dust, cell phones, Kevin's new webcast, systm, and the demise of TechTV. We plan to do this weekly with a rotating cast of characters. Your input is welcome. (Anyone want to design a logo?)
Update: Thanks to all of you who sent in logos. The one you see here is by Lori LeBeau-Walsh. G4 has told us that they intend to reserve rights to the name "The Screen Savers" so we'll be considering other choices.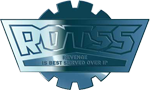 Theme music this week from Wayne and Wax's CD "Boston Jerk."
Incidentally, I'm very happy to report that another Screen Savers alumna, Megan Morrone, delivered twin boys on Friday, Huck and Milo weigh in at over seven pounds each. All are doing well, but don't expect Megan to make an appearance on ROTSS any time soon!